What is CBD oil?
Over the past few months, CBD shops have opened everywhere. Even gas stations are carrying CBD oil now.
Simply put, CBD oil is extracted from the marijuana plant, Canabis Sativa. But CBD oil does not make you high. Canabis plants produce thousands of compounds but the most popular are THC (tetrahydrocannabinol) and CBD (cannabidiol).
It's the THC that makes you high!
Why do people want CBD oil? Because they believe it helps them and research is showing it does.
CBD oil has 7 benefits
1. It relieves pain. Marijuana has been used to treat pain since 2900BC
2. Reduction in Anxiety and Depression. This is interesting. CBD oil is having a positive impact on those suffering from mental illnesses.
3. Can alleviate Cancer related symptoms. CBD may help reduce symptoms related to cancer and side effects related to cancer treatment, like nausea, vomiting and pain.
4. May reduce Acne. WOW!
5. May help those with neurological disorders!
6. Could benefit the heart by lowering blood pressure.
7. With several other benefits: (I took the direct quote from an article)
Antipsychotic effects:
Studies suggest that CBD may help people with schizophrenia and other mental disorders by reducing psychotic symptoms (36 Trusted Source).
Substance abuse treatment:
CBD has been shown to modify circuits in the brain related to drug addiction. In rats, CBD has been shown to reduce morphine dependence and heroin-seeking behavior (37 Trusted Source).
Anti-tumor effects:
In test-tube and animal studies, CBD has demonstrated anti-tumor effects. In animals, it has been shown to prevent the spread of breast, prostate, brain, colon and lung cancer (38 Trusted Source).
Diabetes prevention:
In diabetic mice, treatment with CBD reduced the incidence of diabetes by 56% and significantly reduced inflammation (39 Trusted Source).
These benefits are amazing! But before you go out and buy some CBD oil keep in mind, these amazing benefits NEED MORE STUDY! Plus, CBD oil comes with potential side effects! BUT, over the counter medications prescribed by your doctor have side effects too!
CBD oil is considered safe, but can have adverse reactions in some.
Diarrhea
Changes in appetite
Fatigue
CBD is also known to interact with medications. Before you start using CBD oil, discuss it with your doctor to ensure your safety.
Also you want to be careful where you get CBD oil. Make sure you're getting a good quality product. I've done some research on this as well. I've discovered a company CBD Pure. This is a great company with an A+ from the Better Business Bureau.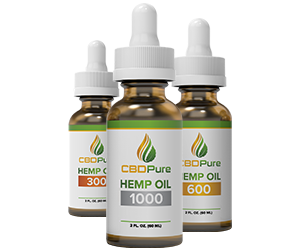 clink on the image
Thanks for reading.
AB
Xorlac
I'll be adding this product to my webpage
Home Gym
soon along with cool low cost products to have at home for working out when you miss class.
I researched information for this blog from two sources.
My next blog will be on Keto Diet. I'm sure you're aware of it. It's more popular than CBD oil.
See ya later.